A veteran in this integrated marine related industry, we have experienced in handling many projects. Some of which bear significant mark to our milestone. 
Intraports Marine collaboration in the rescue operation in Phuket
RETRIEVAL OF BOAT CARCASS OPERATIONS
Tourist tour boat in Phuket capsized.  Double-Decker cruise boat Phoenix PC Diving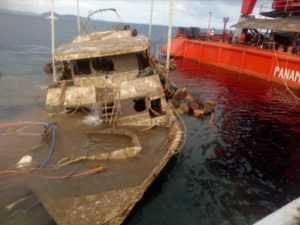 Intraports Marine outbid other contenders and won the tender to purchase two of their old naval vessels, the LST Intrepid and LST Excellence on two separate occasions. These vessels have been serving in the Singapore Navy since 1976 and were originally gifts from the U.S. government to assist our growing Navy at that time. Intraports Marine is proud to be chosen by the Singapore Navy to be part of our nation's Naval history.
SMIT SALVAGE & LONDON OFFSHORE CONSULTANTS
Intraports Marine assisted SMIT Salvage & London Offshore Consultants by materialising the sales & purchasing of the salvaged wreck of the 13,519 GRT bulk carrier "Everise Glory", which sank just outside the Singapore Straits about 14km Northeast of Horsburgh Lighthouse. The Everise Glory sank in 2005 after a collision with a Taiwanese Container vessel. The wreck was subsequently cut and sold to Natsteel as scrap to be recycled.
Intraports Marine is regularly appointed by Italian Thai to assist with the sourcing of vessels and marine equipment and also to transport their construction equipment. Italian Thai is the largest construction company in Thailand, they are responsible for most of Thailand's highways, hydroelectric plants and the new Suvarnabhumi International Airport.
Intraports Marine has over the years, forged a close bond with Inai Kiara Sdn Bhd and frequently supports them with procurement of new additions to their growing fleet of vessels and occasionally act as consultants, for some of their projects. Inai Kiara is Malaysia 's leading dredging company and is responsible for Dredging & Reclamation works at Tanjung Pelepas, Port Klang & Kuala Terengganu. Along with the design and construction of breakwaters and wreck removals in major shipping channels all over West and East Malaysia.